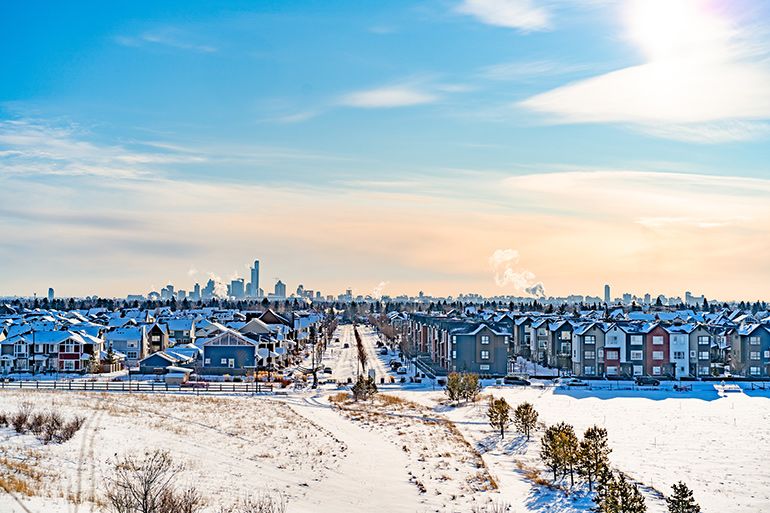 Top 5 Things to Do in Village at Griesbach for Family Day Weekend
Village at Griesbach is a fantastic neighbourhood for those looking for a community that has it all: a stunning atmosphere, a great location and the finest collection of beautiful new homes. It's a lively suburban area with a distinct metropolitan feel – perfectly designed for family life.

And with Family Day coming up, we're listing the top things to do in and around the Village at Griesbach. Once you go through the list and see what Edmonton's Best Community has to offer, we think you'll have found the perfect neighbourhood to call home.
1. SHOP TILL YOU DROP
One of the best features of living in the Village at Griesbach is that you're within walking distance to Griesbach Square. This open-air shopping district includes many popular stores, serene eateries, one-of-a-kind boutiques and everything in between. You can pick up your daily essentials at the Shoppers Drug Mart, designer lifestyle goods at Miniso, and even some wonderful goodies for your pets at the Bone & Biscuit.
Need a quick break from shopping? Grab a bite to eat or hang out with friends at a variety of restaurants – Tim Hortons, Popeyes Louisiana Kitchen, Ripe Tomato Pizza, Mt. Fuji, Chatime and more!
Village at Griesbach is also just about a five-minute drive to North Town Centre, with retail shops like Indigo, London Drugs, Dollarama and T&T Supermarket – a supermarket chain that sells numerous types of Asian foods. Living in the Village means you'll have access to everything that you'll need!
2. FUN AT THE PARK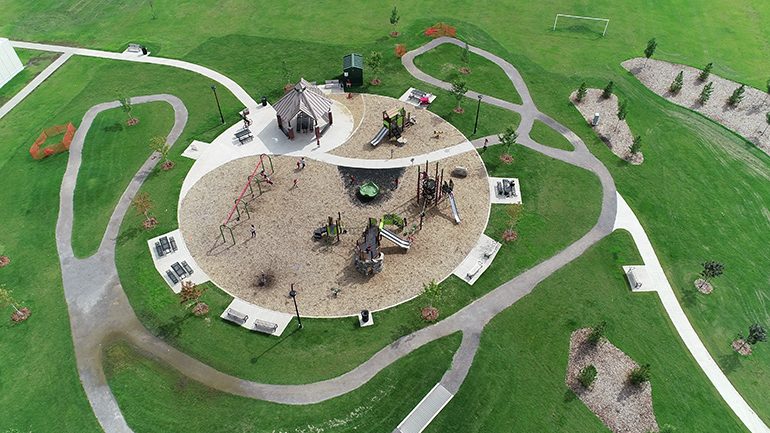 Depending on the weather and with Edmonton experiencing unusually warm weather for February, why not take your kids to the park?! Griesbach is home to a full-sized playground that is perfect for kids of all ages, located on the east side of Major General Griesbach School. The huge playground features a play structure for kids to slide, run and climb on. There's also a separate play area for smaller children and a gazebo with seating arrangements for parents to sit, chat and relax.
3. SLIDE DOWN TOBOGGAN HILL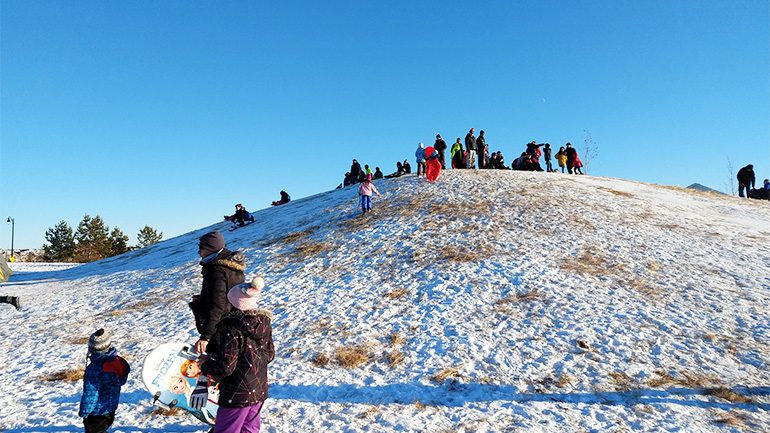 Looking for a great place to toboggan in Edmonton? For those who want to discover a hidden gem in Edmonton should head to Toboggan Hill in Central Hill Park. It's one of the best places to take the family for a glide and a favourite amongst toboggan enthusiasts because of its large terrain and the beautiful view that you get of downtown Edmonton. Just remember to bring the proper safety gear for you and your child!
4. TAKE A STROLL THROUGH HISTORY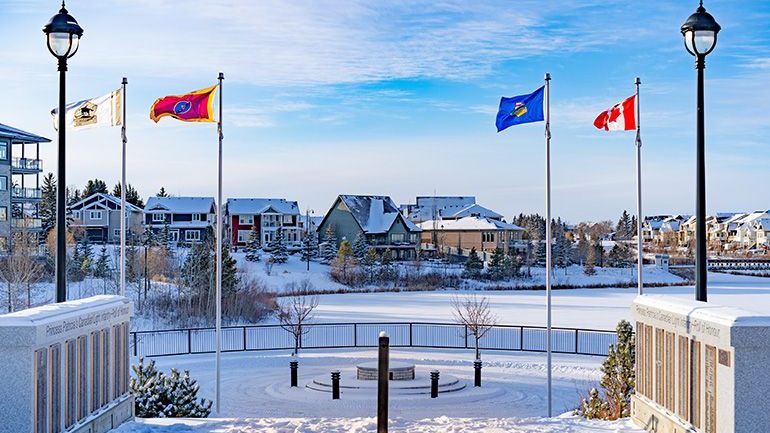 It's always nice to get some fresh air, and there are plenty of parks and walking trails in the Village. Mix in a bit of history, and you'll have an experience like you haven't experienced in a community before. You can see visit the Bedford Basin lake area that houses a large reproduction of a Naval ship that pays tribute to Canada's Navy. Climb up Central Hill Park and relax while you take in the mesmerizing view of Downtown Edmonton. Then take a stroll over to Roundel Lake and wonder at the Ad Astra monument which honours The Royal Canadian Air Force. There's so much to see and explore! It's a wonderful opportunity to experience the beautiful surroundings of the Village at Griesbach!
*Remember to wear appropriate walking shoes and outdoor clothing!
5. TAKE A TOUR OF YOUR NEW HOME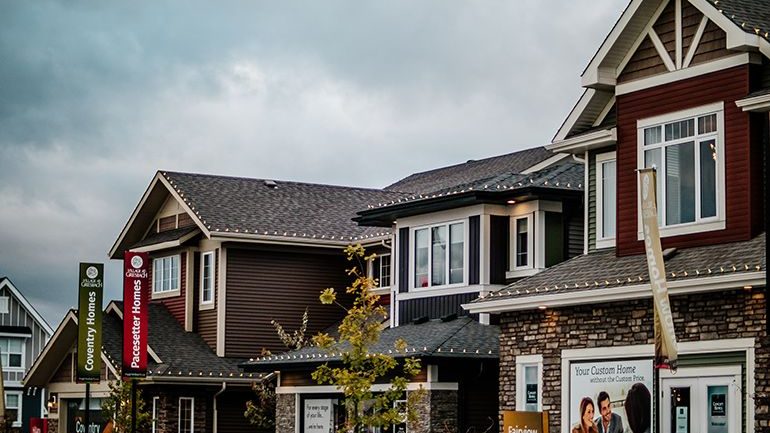 When you arrive in Griesbach, you'll see that the community has some serious curb appeal. From affordable townhomes and duplexes to luxurious attached and detached garage homes, you'll find that there is a home that fits everyone's lifestyle in Griesbach.
The show home parade, situated along Johnnie Caine Way, features classically inspired homes courtesy of Edmonton's top builders: Coventry Homes, Pacesetter Homes, Concept Homes, Homes by Avi and Impact Homes.
Who knows? You might find the perfect home for you and your family.
There are a lot of communities throughout Edmonton, but Village at Griesbach is one of the best to explore during Family Day weekend. Whether it's enjoying an afternoon in Griesbach's retail area or taking a stroll through the beautiful community, there's a whole ton of fun waiting for you!
Enjoy spending the long weekend in the Village at Griesbach!