Village at Griesbach follows architectural guidelines to preserve the appearance and harmony of the community.
Village at Griesbach follows architectural guidelines to preserve the appearance and harmony of the community. The vision for Village At Griesbach is to create a vibrant community that generates enduring value for its homeowners. One aspect of this vision is to create a sense of harmony among neighbourhood homes and other buildings that ensures a high standard of visual appeal consistent with appropriate regional precedents and a focus on architecture that emulates the classic look of small Canadian cities and towns.
There are five dominant architectural styles built in the community: Victorian, Tudor, Colonial, Craftsman, and Prairie.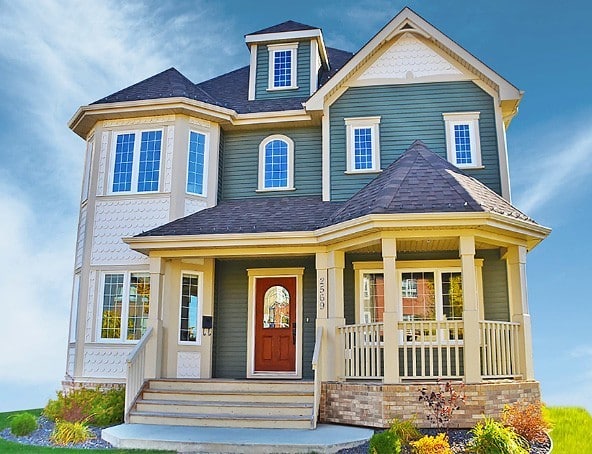 This beautiful style is a preferred style of the Village that is based on the simple, elegant forms adapted in small towns and rural farmhouses.
Essential Elements of Victorian Architecture:
Simple forms and massing
Asymmetrical facades with front facing gables
Extensive partial and full-width porches that extend along one or both sidewalls. (L-shaped)
Steep pitched gable roof between 8:12 to 12:12
Avoided plain, smooth-walled appearance (patterned shingles, bay windows, towers, overhangs, and wall)
Variety of wall materials with different textures, divided vertical wall into sections
Ornamental trim (spindlework, lace-like brackets, dentils, friezes, and porch railings)
Patterned masonry chimneys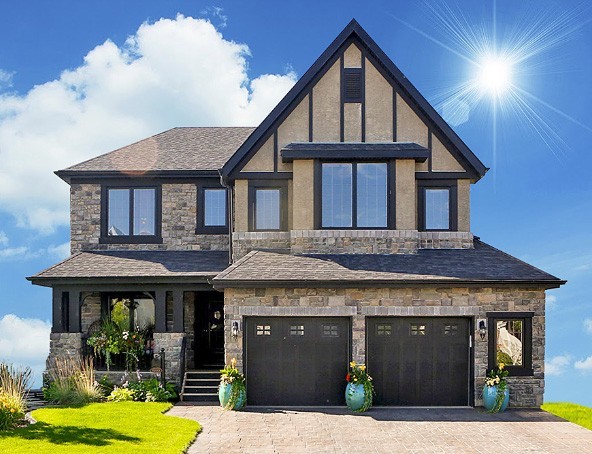 This is a classic style that comes from medieval English cottages and manor houses.
Essential Elements of Tudor Architecture:
Façade dominated by one or more prominent cross-gables
Steep roof pitch with dormers
Shallow overhangs
Balanced window and door locations
Vertical windows in groupings
Porches often notched out under an extended roof
Simple detailing
Massive, elaborate chimneys commonly topped with decorative chimney pots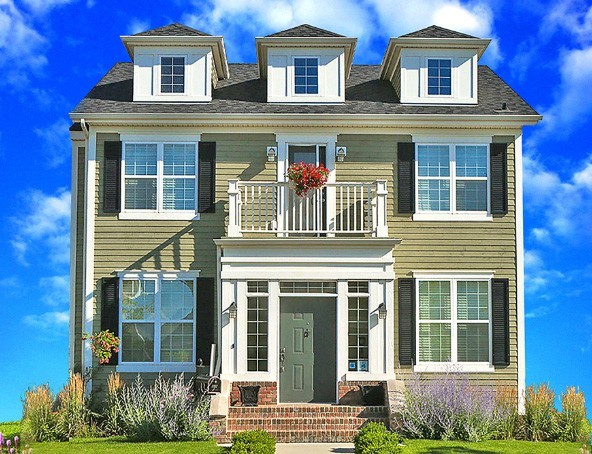 This gorgeous style is based on Renaissance-inspired classic symmetry and was inspired by the American revival of colonial architecture.
Essential Elements of Colonial Architecture:
Predominantly symmetrically balanced windows and central door
Simple gable roofs (medium pitch) with minimal overhangs (12")
Symmetrically arranged dormers located above the windows in patterns of the first and second floor.
Accentuated front entry with decorative crown supported by pilasters or columns.
Windows in adjacent pairs.
Multi-pane glazing.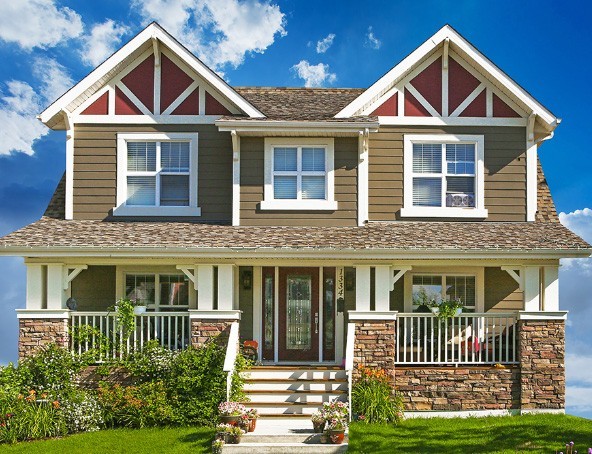 This elegant style encourages originality and looking 'handmade' as a reaction to the aesthetic of overly stylized homes.
Essential Elements of Craftsman Architecture:
Asymmetrical compositions.
Low-pitched gable roofs (6:12 to 8:12) with wide unenclosed eave overhangs and exposed roof rafters.
Bracketed porches supported by oversized tapered or square columns that often continue to ground level (without a break at the porch floor.)
Expressive trim (decorative or false beams and brackets added under gables.)
Vertical windows in groupings with oversized main floor windows.
Hand crafted stone work.
Generally based on earth tones. Rich umbers, greens and ochres can be found in traditional examples.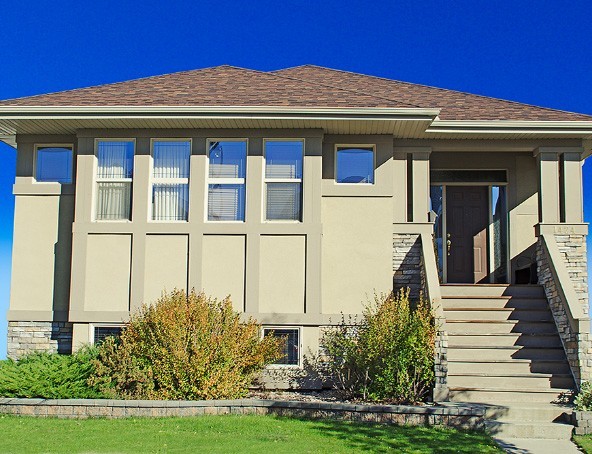 This pleasant style has the primary tenet that it looks like it naturally grew from the site with an organic architecture look.
Essential Elements of Prairie Architecture:
Dominant two storey central form with one storey porch and wing
Low pitched, hip roof
Deep overhangs
Strong horizontal base and details emphasizing horizontal lines
Oversized, monumental square or rectangular piers of brick, stone, or stucco used to support porch roofs or deeply overhanging roofs
Vertical windows in groupings
Wide chimneys