Griesbach Business Spotlight
Village At Griesbach is a community filled with rich history, rich amenities and flavourful businesses! Read more below about the many great restaurants, retail and services that there is to find in Village At Griesbach!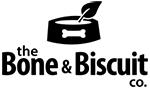 The Bone and Biscuit provides the highest quality, natural pet food for cats and dogs.
They specialize in raw food feeding and holistic pet health. The Bone and Biscuit ensures they take time to help owners with their pet's health journey, providing the education and knowledge to help owners make informed decisions about their pets' health.
Holistic Pet Services with High Quality Dog and Cat Food, Raw Food, and Supplements
The Bone and Biscuit's ownership grew up on the North Side of Edmonton near Griesbach, and have a special connection to this area.  Their store is pet friendly, and many neighbourhood dogs stop by for a treat while out on their daily walks. You will often find the Bone and Biscuit at community events in and around Griesbach. The Bone and Biscuit team considers many people in the community our friends and wants to help support them and their pets by providing the best products and services for a long and healthy life.
Their Story
The Bone and Biscuit opened their doors on February 2, 2018. The business' ownership has been animal lovers their whole lives, and when there was an opportunity to look for new work, they decided to open their own business and felt pet health was the way to go. They love helping others with their pets, and they only want what is best for the pets and their owners.  The Bone and Biscuit finds it incredibly rewarding to see pet owners come back to let them know how much their business has helped them and their pet.
Services Offered
Where To Find Them
Village At Griesbach has a wide variety of business that enrich the community. Here are just a few of the many restaurants, retail shopping and services that can be found near you!
Other Businesses In Village At Griesbach
Want Your Business To Be Featured Here?
Fill out the submission form in the button below, and get your business featured on the Village At Griesbach Business Spotlight!