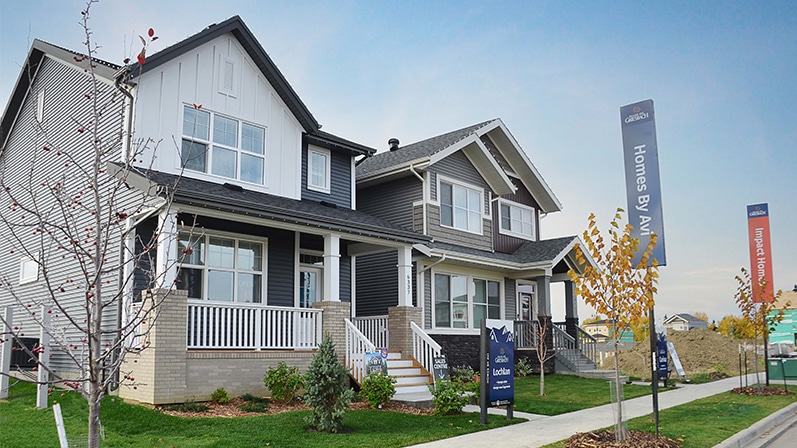 The Best Detached Garage Ideas
If you're building a laned home, you're likely looking for ideas on how to best use your detached garage. Detached garages have so many options to ensure your garage space is best suited to your needs. If you're deciding between an attached garage and a detached garage, or you want some ideas and suggestions on how to make your detached garage your own, read on!
What is a Laned Home?
A laned home is a single family home with a rear, detached garage that is accessible from an alleyway access (a lane). Laned homes have a classic exterior appearance and often include front walks and porches, and can have larger front yards.
Why Choose a Laned Home
Laned Homes have many fantastic benefits. To start with, a laned homes have a beautiful curb appeal. The exterior of a laned home looks incredibly classic, with a short walk-up, a front porch, and often large, front windows. A laned home has a detached garage, which can provide many benefits to homeowners. Laned homes also tend to be more affordable than attached garage homes, making them a great choice for families looking to upgrade or young professionals starting out. Laned homes tend to have roomy, modern floor plans that are open concept. Laned Homes are also ideal for income suites, something Griesbach fully supports! One more great benefit of laned homes is that they tend to be more secure from both a safety and energy efficiency standpoint. This is because attached garages can be a drain on energy efficiency as there's such a large door and air intake.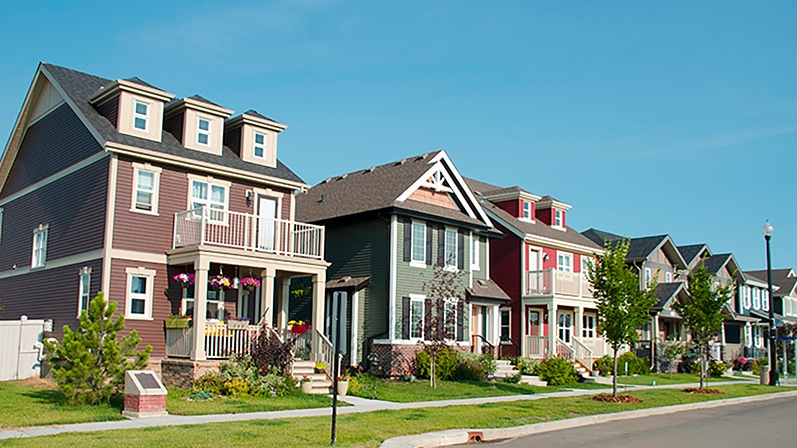 Benefits of a Detached Garage
Detached garages have several advantages. Here are some of the top benefits you'll find when you have a detached garage.
Reduced Noise
Detached garages are fantastic for people who share a home with someone on a different schedule than them. Attached garages can be incredibly noisy, especially if you have a bedroom above. The separation of the garage reduces noise of the actual garage as well as the sound made by vehicles. Detached garages also make for a private and quiet workshop.
Income Suite Compatibility
Detached garages are perfect for people looking to build an income suite. Garage suites are incredibly popular in Griesbach as they offer more privacy, better light and air quality, and ease of access for tenants; plus, garage suites are incredibly aesthetically pleasing!
Flexibility
With a detached garage, you're offered far more flexibility when it comes to sizing. Whether you want to build a one car detached garage garage, build a detached garage with a porch, or any other cool detached garage ideas, you can choose a variety of sizing options, add-ons, upgrades, and more with a detached garage!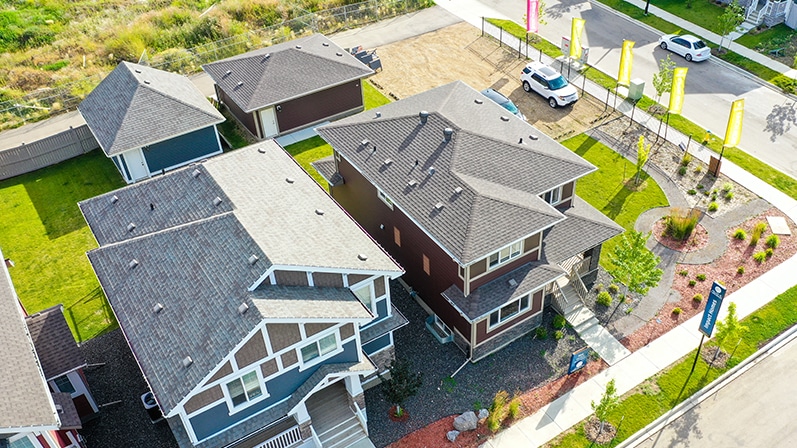 Ideas for Your Detached Garage
Create a Man Cave For Your Detached Garage
Detached garages are a separate unit from your home that can be completely decked out if you so choose. Whether you want to build a man cave on top of your detached garage in the form of a garage suite, or you'd rather build the entire detached garage as a man cave and park elsewhere, the choice is yours!
Focus on Your Backyard Rather than Detached Garage
If you have small children, or you just love spending time outdoors in your backyard, you may want to consider building a smaller detached garage. The larger the detached garage, the less space you'll have in your backyard. You could consider building a single car detached garage with a loft so you still have storage space, or build a detached garage with a porch to have more usable space around your garage. If your backyard is important to you, ask a builder about making your detached garage smaller!
Build a Three-Car Detached Garage
On the other hand, sometimes having more garage and storage space is the priority. Sometimes, your lot will allow you to build a three car garage, even if that wouldn't be a traditional size garage for your home size. Having a three car garage can be useful for storing extra vehicles, trailers, and more. There are some triple car garages that are a tandem design, allowing you to have the appearance of a two-car garage, but there is space for a third vehicle in front of another.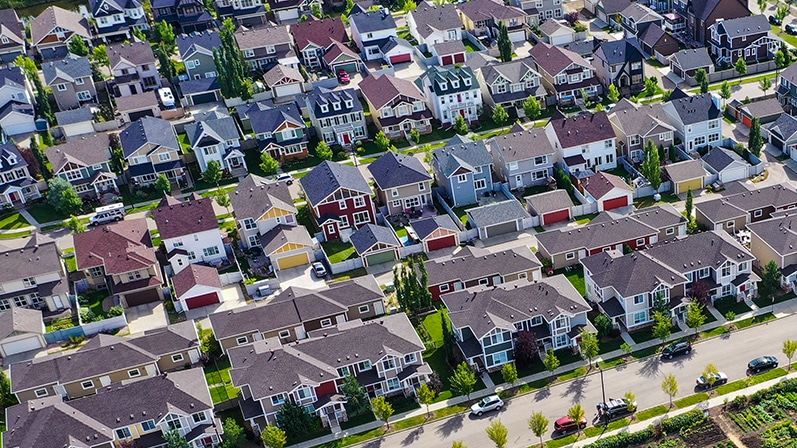 Create a Detached Garage Workshop
Another cool detached garage plan would be to make your detached garage into a workshop. You can talk to your builder about running plumbing to a garage to ensure you can complete all your projects in your detached garage workshop. Having your workshop be part of your detached garage is incredibly useful as there is less noise, smell, and chemical pollution to your home.
Build a Detached Garage At-Home Business
Garage suites can be used for a wide variety of activities. One detached garage idea is to build a garage suite not as an income suite, but as a location for your home business. Garage suite businesses are incredibly versatile, such as aestheticians and hair stylists, offices for designers or other freelancers, small boutique shops, massage therapists, tailors, and more! Detached garage at-home businesses allow you to work from home without needing to invite customers into your personal space.
Use Your Detached Garage as a Bonus Room
Another way to use your detached garage is to treat it like a bonus room. You could set up a home movie theatre, create a games room, store your books like a library, use it for crafting and hobbies, and more!
Turn Your Detached Garage into a Gym
Many people say that the hardest part of going to the gym is walking through the doors. If your detached garage is your home gym, that barrier will be gone! Exercise equipment can be large and cumbersome, difficult to store, so keeping your workout equipment in your detached garage home gym can save you a lot of trouble and space!
How to Build a Detached Garage in Griesbach
Village at Griesbach has many laned home lots available! If you're looking to build a detached garage in Griesbach, our select builder group has a variety of plans and options to make sure you get the exact garage you want! They will ensure that the plans meet all Alberta Building Codes for detached garages and that your garage won't face any issues like sinking or flooding.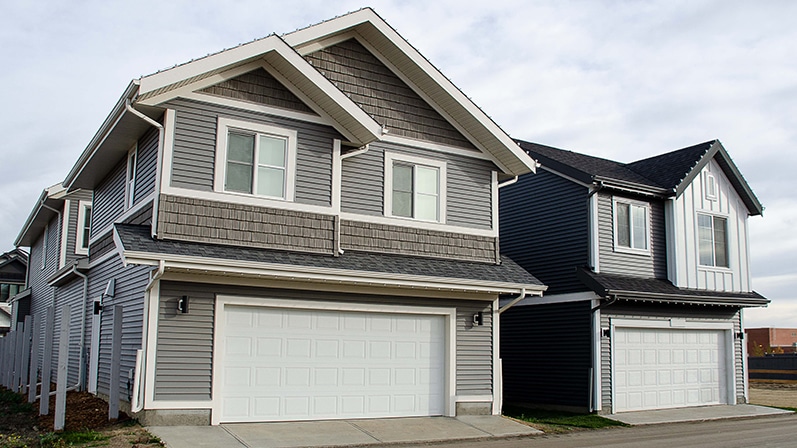 The average cost to build a two-car detached garage is $35,000 in Griesbach, which, in Griesbach is rolled all together into your One & Done pricing and is part of your initial mortgage; however, building a The average cost to build a two-car detached garage is $35,000 in Griesbach, which, in Griesbach is rolled all together into your One & Done pricing and is part of your initial mortgage; however, building a detached garage with a loft or bonus room, or adding a full suite, will increase the costs of your detached garage. Griesbach's select builder group, Homes by Avi, Impact Homes, Pacesetter Homes, Concept Homes, and Coventry Homes all have laned home floor plans and detached garage options to choose from. Visit our show home parade on Greenaway Avenue to learn more about building a new laned home with a detached garage in Griesbach!