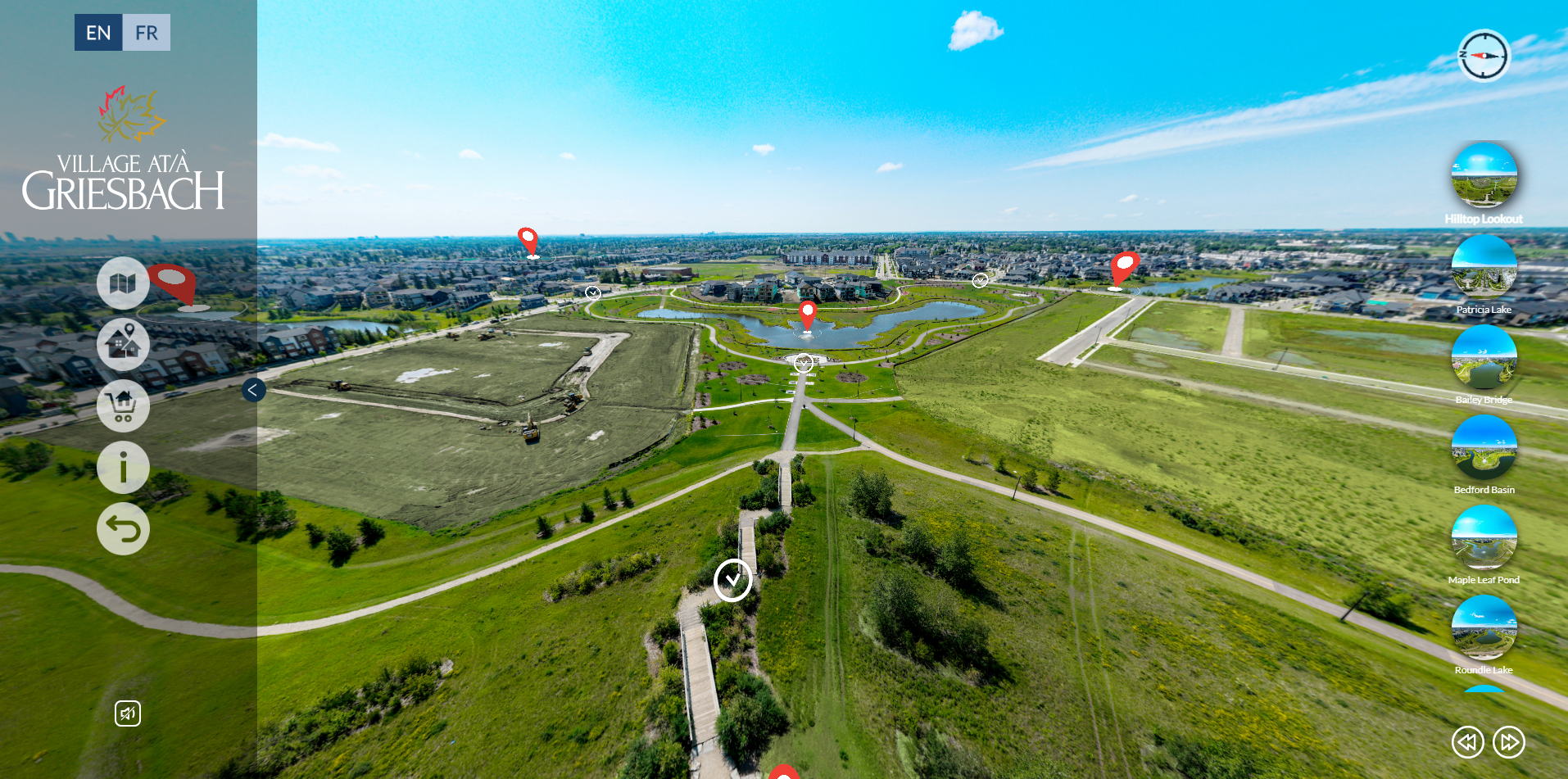 Enjoy Village at Griesbach Year-Round
Experience the Magic of Our Community Virtual Tour!
As the weather starts to turn colder and the leaves change from green to gold to on the ground, we can often find ourselves wishing we were back in the warm sunlight with luscious gardens. Now, whenever you get the urge to spend some time where it's sunny and warm, you can be transported back to Village at Griesbach in the summertime with our Community Virtual Tour!
Where You Can Go
The Community Virtual Tour lets you explore all the main attractions Griesbach has to offer! You can spend time both in the air and on the ground at Central Hill Park, Ad Astra and Roundel Lake, Bedford Basin, Patricia Lake and Park, the Community Gardens, the Show Homes and more! See Village at Griesbach from a whole new perspective by looking at the community from above as well as walking around all the community highlights.
At different locations you can read about the history of the community, fun facts about Griesbach, as well as quiz your knowledge! The Community Virtual Tour will cover some of the most important pieces of information about Griesbach as well as give you fun tidbits you might not know!
How to Use Our Community Virtual Tour
The community virtual tour is fun and easy to use! Here are some of the primary icons to look out for and what they do:

This icon means there's a point of interest. This could be a lake, park, or important community amenity!

This icon is for the show homes! If you click here you'll be able to learn all about our preferred builders and their show homes.

This icon is for quiz questions! Test your knowledge of Griesbach by clicking on the lightbulb, you'll then be told if you're right and given a little more information about the answer!

Wherever you are in the virtual tour, this compass will help orient you! It will show you what direction you're currently facing and give you a greater understanding of the community.

This icon means you can view the area from a ground view! Click this button to get a 360 view of special amenities from the ground!

If you're on a ground view, look for these arrows to head back to an aerial view!

This icon is for viewers who would like to have the speech read aloud.
How to Navigate a Virtual Environment
Once you access the virtual tour, use your computer mouse, keyboard, touchscreen, or VR controllers to navigate through the environment. Explore by clicking or dragging to change your view, move forward or backward, and turn left or right.
Our virtual tour allows you to interact with objects within the environment. Look for clickable icons, buttons, or hotspots to access additional information, images, videos, or audio clips related to specific elements in the tour. Most of these clickable items provide both informative text and audio narrations.
Griesbach's virtual tour is an enjoyable way to learn about the community, its historical significance, and the homes you can build! If you want to talk to a builder about living in Griesbach, you can reach out directly through the tour!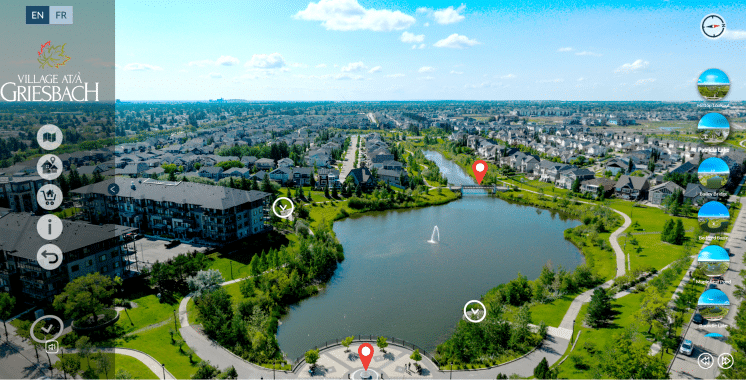 Explore Our Community from the Comfort of Home
Whether you're looking for a new home, wanting to check out the Griesbach amenities ahead of an in-person visit, or you simply want to explore the community where it feels like summertime, the virtual tour is here! Spend some time learning more about Griesbach and all it has to offer, and tell us what you think! If you're enjoying the virtual tour, consider sharing it with friends so everyone has a chance to explore Griesbach from the comfort of home!