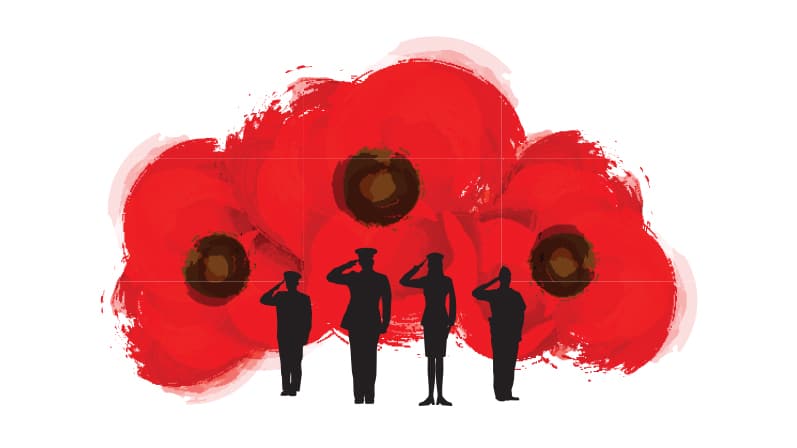 Remembrance Day in Griesbach
VIllage at Griesbach is hosting a Remembrance Day Ceremony this year. The ceremony is organized by members of the 1st Battalion Princess Patricia's Canadian Light Infantry and will be held at Patricia Park. The ceremony will begin at 10:45 am, but please arrive early to ensure there is time to park, as Gault Blvd will have limited availability.
On Remembrance Day, it's important to take time out of our days to stand in support of our troops and those who have given their lives for our freedom.
Village at Griesbach holds Remembrance Day in high accord due to the fact the community was built on former military Canadian Forces Base Edmonton, also known as Griesbach Barracks. Griesbach honours the sacrifices of The Canadian Armed Forces through monuments and memorial parks. These areas provide community members spaces to remember the people who served their country.
We encourage our community members and all Canadians to wear a poppy as a sign of support for those who have lost their lives and all past and present members of the Canadian Armed Forces, and join us as we commemorate.
Poppies can be found all over the city, including in our show homes and offices, and are part of a campaign to raise funds for veterans and their families. Wearing a poppy is also a visual reminder to those around you, ensuring that you help spread awareness and encourage others to hold Remembrance Day in high regard.
The significance of the poppy comes from the landscapes of the First World War, where poppies flourished in soil that was churned up by the Western Front Lines. The poem "In Flanders Fields" by John McCrae is one of the most enduring poems from that time, and details the prevalence of poppies for soldiers serving in the war. After McCrae's poem was published, it was soon campaigned to make poppies a symbol of remembrance for those who had served and honour the fallen.
Village at Griesbach pays tribute to the poppy through Flanders Field Park, a park that has multiple flower beds with poppies in them. You can visit the park and remember the significance of the poppy year round.
Canadians are offered a freedom and quality of life that not many countries have, and that is due to the sacrifices and commitments of our servicemen and women. To all members of the Canadian Armed Forces, past and present, we thank you for your service.
Please join us on November 11th, 10:45am, at Patricia Park as we pay tribute.